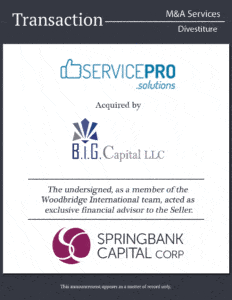 We are pleased to announce in September of 2016, Help Desk Technology Group was acquired by B.I.G. Capital LLC. Springbank Capital, an affiliate of Zeifmans, acted as the exclusive financial advisor to Help Desk, as a member of the Woodbridge International team.
About Help Desk Technology Group: 
Headquartered in Oakville, Ontario, Help Desk develops and sells service desk and workflow management software that allows companies to connect people, equipment and processes within a single collaborative work management structure. Help Desk Technology has 16,500 licensed end-users and 600+ maintenance accounts, including those of several Fortune 500 companies.
About B.I.G. Capital LLC:
B.I.G. Capital LLC is a private investment firm focused on acquiring companies in the software sector. The partners have completed transactions and/or have management experience in several industries including software and technology, business services, manufacturing, telecommunications and e-commerce. The firm has investments in several technology companies and is actively seeking software companies to add to its portfolio.
About Springbank Capital Corp:
Springbank brings investment banking to mid-market businesses in Canada. It offers one-on-one, customized services, an extensive and proven track record of completed deals, and an international reach – all underpinned by an understanding of and passion for what it takes to succeed in the Canadian mid-market. Springbank's President, Jennifer Chasson, is also a Partner with Zeifmans, a Toronto-based accounting practice that combines the capabilities and world reach of a multinational, with the efficiency and service of an independent practice.