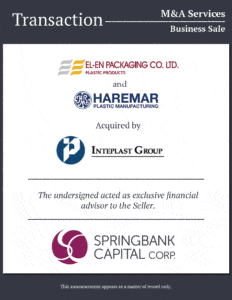 Springbank Capital Corp. is pleased to announce that, on March 2, 2015, Inteplast Bags and Films Corporation (a division of Inteplast Group) acquired El-En Packaging Company and its sister company, Haremar Plastic Manufacturing Limited.
El-En Packaging and Haremar Plastic Manufacturing will be joined into one business unit, known as the "Inteplast Bags and Films Corporation – Haremar Plastic Manufacturing Division".
Springbank Capital acted as the exclusive financial advisor to the seller.
About El-En Packaging and its sister company, Haremar Plastic Manufacturing:
El-En Packaging Company Limited is a leading manufacturer and supplier of consumer retail garbage bags to major retailers across the United States and Canada. Haremar Plastic Manufacturing was established in 1965, starting as an importer of plastic film products. Eventually, Haremar began manufacturing polyethylene film products for printers, converters and end users. Operating out of Ontario, Canada, Haremar has over 100 employees and is the leading manufacturer of polyethylene film products in North America.
About Inteplast Group:
Founded in 1991, Inteplast Group is the largest manufacturer of integrated plastics in North America, offering a wide variety of quality products. Headquartered in Livingston, New Jersey, Inteplast Group maintains three divisions-AmTopp, Integrated Bagging Systems (IBS) and World-Pak-covering a full range of customer needs. Inteplast's 525-acre manufacturing facility in Lolita, Texas is supported with the most innovative technology available. State-of-the-art plants have been developed at the site, which are the largest of their kind in the world. Combined capacity of this site alone exceeds one billion pounds of finished goods annually. Inteplast and its over 6,500 employees operate 50 manufacturing plants and 7 offices while maintaining 14 warehouses throughout North America.
About Springbank Capital Corporation:
Springbank brings investment banking to mid-market businesses in Canada. They offer one-on-one, customized services, an extensive and proven track record of completed deals, and an international reach – all underpinned by an understanding of and passion for what it takes to succeed in the Canadian mid-market. Springbank's president, Jennifer Chasson, is also a partner with Zeifmans LLP, a Toronto-based accounting practice that combines the capabilities and world reach of a multinational with the efficiency and service of an independent practice.