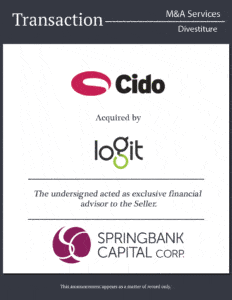 We are pleased to announce in October of 2016, The Logit Group, a leading Canadian research execution company, has acquired Cido Research Americas, a trusted international data collection company, to become the largest independently-owned data collection company in Canada, and one of the largest in North America.
Springbank Capital, an affiliate of Zeifmans, acted as the exclusive financial advisor to Cido Research.
About Cido Research: 
Founded in 1994, Cido Research is a leading market research firm specializing in data collection services. Headquartered in Mississauga, Ontario with six other offices in Canada, U.S. and Costa Rica, Cido is a leading partner to four of the top five market research organizations in the world.
About The Logit Group:
Founded in 1997, The Logit Group provides online and telephone market research data collection, specializing in consumer studies, business-to-business research, executive research, and customer/employee satisfaction. The Logit Group is headquartered in Toronto, Ontario with offices in Montreal, Canada and Wichita, Kansas.
About Springbank Capital Corp:
Springbank brings investment banking to mid-market businesses in Canada. It offers one-on-one, customized services, an extensive and proven track record of completed deals, and an international reach – all underpinned by an understanding of and passion for what it takes to succeed in the Canadian mid-market. Springbank's President, Jennifer Chasson, is also a Partner with Zeifmans, a Toronto-based accounting practice that combines the capabilities and world reach of a multinational, with the efficiency and service of an independent practice.