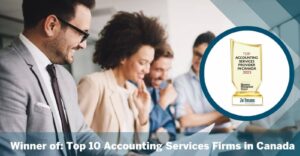 We are pleased to announce that Zeifmans LLP was featured in Business Management Review Magazine's 2023 Top 10 Accounting Services Providers in Canada!
This acknowledgement recognizes Zeifmans' track record of providing insightful, personalized advice, supporting over 11,000 clients and their generations to meet their financial and business goals. It also recognizes our guidance of promising startups and budding entrepreneurs who seek a trusted advisor to help find innovative, creative solutions to a variety of complex challenges in an evolving business landscape.
We are extremely grateful to our talented and dedicated staff who help drive focus on delivering client service excellence every day. A big thank you to our staff, clients, and networks for their continued support.
Contact us
Zeifmans advises businesses in a number of industries as they prepare to launch or grow. To learn more about how we support new companies, visit us online or contact us to start the conversation.