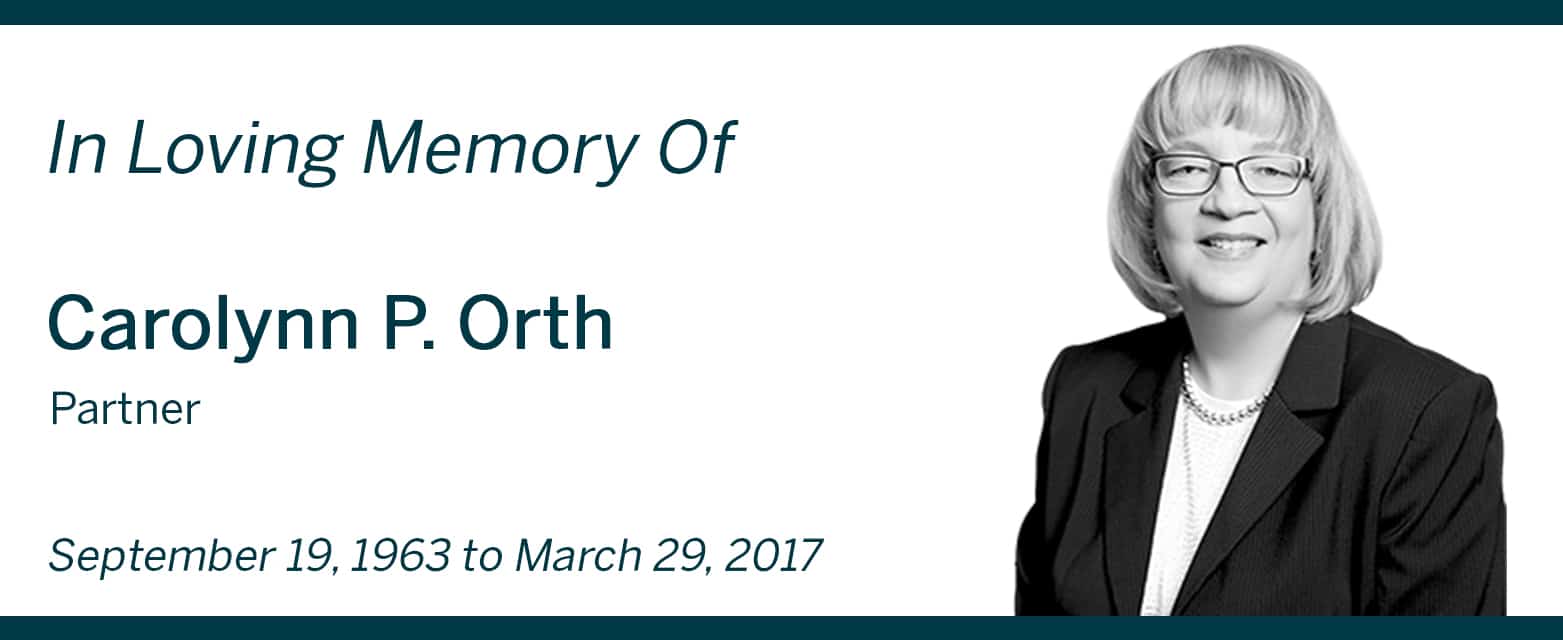 It is with deep sadness that Zeifmans announces the passing of our beloved partner, Carolynn P. Orth.
Carolynn passed away on March 29, 2017 after a long battle with cancer. We are grieving at the loss of Carolynn, who was such a significant part of the fabric of Zeifmans and whose passing has left a hole that will be difficult to fill.  We grieve as well for the loss her family suffers.
Carolynn was a dedicated, loyal, professional and committed Partner who was with Zeifmans for over 20 years. During her time with the firm, Carolynn provided audit and complex accounting services to clients, including both private and public companies. Her passion and drive to deliver excellence showed through her tremendous dedication and commitment to the firm's quality control regime. Carolynn was also a mentor and role model for so many at Zeifmans, and a good friend to us all. Her dedication to the importance of education, professional and technical expertise was illustrated through her management of the development of our professional staff – teaching many in-house courses and leading them to their success as CPAs. She served for many years on Zeifmans' Accounting and Assurance, and human resources committees, as well as actively participated in the leadership of the Zeifmans Toastmasters Club. In addition to her role at Zeifmans, Carolynn was a member of the Practice Inspection Committee for CPA Ontario and volunteered on CPA Canada's Private Enterprise Advisory Committee and as a board member of her condominium corporation. She was also a volunteer treasurer for a number of not-for profit organizations.
Carolynn was a loving daughter, sister and aunt. We wish her family and friends peace and comfort at this difficult time.